Use this page to discuss design and content changes to the main page. For general wiki discussion, please visit the Community Portal or Forums.
Just make animated logo, i hope you liked it.(Every 10 second the hooks moved.)--Bloodhit 03:29, June 28, 2012 (UTC)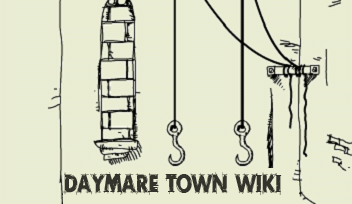 Wow, I love it! It will make the wiki more immersive. Let's keep that one! :D
Vortex2 09:58, June 28, 2012 (UTC)
Adoption
Edit
After RedX's try, several months have passed, and I am gonna try again to adopt this wiki. I think it doesn't deserve to be abandoned, there's much material (much more material than Submachine): drawings, side-games, games with the same design, sketches, etc. and I think we could make it grow huge if we make an effort, and so get more people to know these amazing games.
If anyone else is interested in adopting, we can reuse the page RedX made and choose the best one for adoption :) meanwhile, I'll start editing and creating pages to meet the requirements. When it is adopted, we can discuss about the theme and other important things.
Vortex2 09:58, June 28, 2012 (UTC)
Added a new poll. Thought it would generate more interest. Civ4master 02:15, July 6, 2012 (UTC)
Ad blocker interference detected!
Wikia is a free-to-use site that makes money from advertising. We have a modified experience for viewers using ad blockers

Wikia is not accessible if you've made further modifications. Remove the custom ad blocker rule(s) and the page will load as expected.